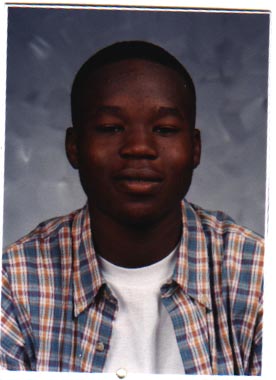 This is me two years ago. School pictures... they always turn out bad no matter what you do. Well don't worry peoples I look better than this in person, aight!
Don't be laughin either.
Anyway... My name is Negbe but must people call me Kevin(which I prefere).
I live in Minnesota, in the Twin Cities and go to Cooper High School. (in case any ladies out there wanna come find me).
I'm a Junior at Cooper and I'm a member of the soccer team. I started on JV as a foward last year and hope to be on the Varsity roster next season.
I don't know what else to say for now. If anybody out there has a question, fell free to
email
me.