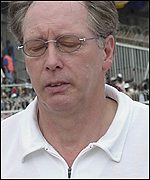 The Nigeria Football Association is to hold an emergency meeting on Thursday, 26 April, to discuss the country's defeat at the hands of Sierra Leone in a crucial World Cup qualifying game over the weekend. Also expected on the agenda is the fate of the Super Eagles' Dutch-born coach Jo Bonfrere, who proclaimed that he would resign if Nigeria
lost to Sierra Leone. "The meeting is necessary given the dangerous position we're occupying on the table in our group," NFA chairman Dominic Oneya said.
The defeat has sparked outrage in Nigeria with football fans and the media calling for the sacking of Bonfrere and
overhauling of the team.
The daily Vanguard newspaper said: "The Super Eagles brand of football convinced nobody and Bonfrere has lost his voice and should be kicked out."
"What cannot wait, and which must be carried out immediately, is the dismissal of coach Jo Bonfrere," wrote football commentator Mumini Alao in the daily Complete Sports paper.

Bonfrere staying put

On arrival with the team in Lagos, Bonfrere, who had
previously threatened to resign from his job if his side failed to beat Sierra Leone, said he had changed his mind
following pleas from his players. "The players held a
meeting after the match and made it known to the NFA that
I should be allowed to stay on," said Bonfrere.
"They told me that if I leave they will not be happy, so I had to give in to the players' request and decided to remain in charge of the team."

But Oneya said: "There was no time Bonfrere's resignation threat was discussed throughout our stay in Freetown." He, however, suggested that Bonfrere might carry out his own threat.
"As we've read in the local papers about his
threat to quit if we lose in Freetown, we're expecting him to throw in the towel."

Others to decide

Before the match, Bonfrere had a public row with NFA officials over inadequate facilities for preparations, alleged they were giving him no support to qualify Nigeria for a third
consecutive World Cup outing and put his job on the line if his team lost to Sierra Leone.
Bolaji Ojo-Oba, NFA's head of International Football Department, said the team had no excuse to lose to Sierra Leone.
"We did everything that we had to do for the players to win the match," he said.
"Is it because the bus did not arrive on time to take them to the airport on their way out of
Lagos or because they did not have enough balls to train that made them lose to a team
like Sierra Leone?" he asked. Bonfrere blamed ill-luck for his team's defeat.
"Sierra Leone capitalised on one small mistake we made in our defence and scored. We worked very hard but were unlucky not to score," he said.
"We still have a chance but even if we win our three remaining matches, we have to rely on
what happens to our other group rivals," he added.

News source: http://www.bbc.co.uk