Eagles reject Martins
,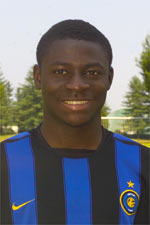 Nigeria Olylmpics squad coach, Kadiri Ikhana has stated that Inter Milan striker, Obafemi martins has no place in his squad at the moment. Wonderkid Martins is quickly becoming an annoyance to the Nigerian FA becuase of a series of no-shows. Most recently, he pulled out of the Nations Cup team at the last minute, claiming that his position at his club would be threatened if he left for the tournament. Just days later, there were reports that Cameroon had him drafted for their next Olympic qualifying match. In Martins' defense, he quickly announced that he had no intentions of playing for Cameroon. At that time, the FA made it clear that it had no intention of begging Martins to play for Nigeria.

Coach Ikhana is currently leaving Martins out of the U23 squad becuase "he needs to clear his snobbish behavior with the FA". Nigeria is in the same qualifying group as Tunisia and Senegal. Tunisia has eight points while Nigeria is tied with Senegal with seven points. It is an emergency for Nigeria now as Tunisia can dictate its own destiny. Nigeria will get a chance to play both Senegal and Tunisia again before qualifying is over and Ikhana will be intent on using players who are willing to play hard for their country.
Tell Your Friend About This Site
Enyimba read for new season

Lens fine Utaka

Okocha to stay at Bolton