Former African Footballer of the Year, Victor Ikpeba of Nigeria, has made it clear he would like to leave his German club Borussia Dortmund because the team's coach no longer appears to see a role for him in the starting line-up.

The Nigerian striker has had a miserable season at the Bundesliga club after being ignored by coach Matthias Sammer and the team's administrative manager Michael Zorc - both former heroes of the club.

"If they believe I have no future here, then I must move on," said Ikpeba in a hard-hitting interview in the German media this weekend.

"I have no idea why they don't think I fit in. I cannot understand it," said Ikpeba, who was a big-money signing from Monaco two years ago.

Out of favour

Sammer, the former German international, has said publicly that Ikpeba does not feature in his plans.

Dortmund currently lie third in the Bundesliga, just three points behind leaders Schalke 04, and are one of eight clubs who still have a chance to take the German title.

On Friday, they played bottom-placed VfL Bochum and won 5-0 but Ikpeba did not play.

He has not featured in the side since mid-February, when he played just five minutes as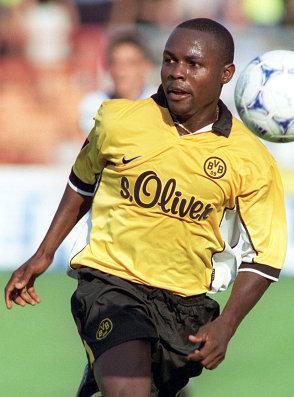 a late substitute.
Two more years?
In total, the 27-year-old has played just eight games and scored once this season.
"I don't think that I've really played bad this season," he said.
"In the beginning of the season I was injury-free but why I don't get used any more I don't have an answer for," he lamented.
"I have given my all here but I have not been allowed to grow at Dortmund or develop into a big star," he added.
Ikpeba says he has yet to decide on a firm course of action but added: "Nothing is sure. My contract runs for two more years and if I want to stay I'll stay. But that will only be if I'm happy here."
He did admit in the interview, however, that he had received no firm offers from elsewhere, although 1860 Munich are said to have made a tentative approach.
Ikpeba can also move elsewhere in Europe because he holds Belgian nationality from his time at FC Liege.
News source: http://www.bbc.co.uk